EMAS Environmental Statement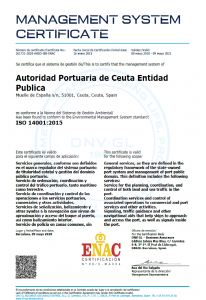 Since 2006 until the current date year 2020, the Port Authority has a certified environmental management system based on the UNE-EN ISO 14001: 2015 standard, which is fully operational in General Services, as defined in the regulatory framework of the port system. The services are the following:
Service of management, coordination and control of port traffic, both maritime and land.

Service of coordination and control of operations to port, commercial and other activities.

Signaling services and other navigation aids that serve as approach and access of the ship to the port, as well as interior beaconing.

Police service in common areas, without prejudice to the powers that correspond to other administrations.

Lighting service of common areas.

Regular cleaning service for common areas of land and water.

Emergency prevention and control services, in the terms established by civil protection regulations.

Public domain management.
On the basis of this system, the Port Authority of Ceuta began in April 2018 the implementation phase for its registration in the Community Environmental Management and Audit System (EMAS), regulated by Regulation (EC) No. 1221/2009.